ALTENMARKT-ZAUCHENSEE
The Twin Holiday Paradise
Two resorts for the price of one. Enjoy a relaxing break surrounded by spectacular scenery with a variety of sporting and cultural leisure activities.



Altenmarkt (842 m) is an attractive resort, which has grown naturally over the years and maintained its authentic character and charm. Spread out beneath a magical mountain backdrop, nestling in a impressive alpine panorama Altenmarkt and Zauchensee boast something for everyone.

It's a real pleasure to hike, bike, ride or fish in alpine pasturelands on the gentle, vast countryside or play a relaxing round of golf on the nearby golf course. The new Family Spa Therme amadé guarantees great fun swimming all year round as do the four bathing lakes in the area in summer.


An excellent infrastructure, restaurants and shops combine with an active country life with colourful village evenings, herding the cattle, Harvest festival events and farm festivals to create the ideal spot for your holiday.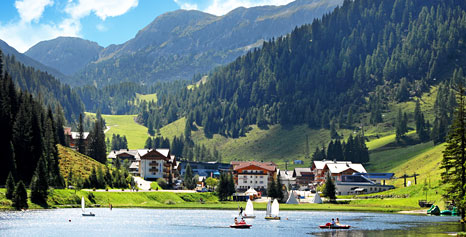 Zauchensee (1,350 m), the small alpine village in the heart of one of the most beautiful high valleys in the Niedere Tauern range offers a holiday in a healthy mountain environment. In winter you're in one of the most popular ski area in the Province of Salzburg as well as in the highest in the Sportwelt Amadé.
In summer the alpine village is great for hiking and mountain biking. During the summer months of July and August Zauchensee is transformed into a unique Magic Mountain Club Resort.
A handful of houses, a club center, a romantic mountain lake and the fantastic mountain scenery create the backdrop for a holiday full of outdoor action and adventure.

The lake of the same name is privately owned by the Schneider Family and together with the Jagdhaus with its 21 self-catering apartments, right on the edge of the lake, fly fisherman will find a little paradise.
Find out more about the twin holiday paradise and the unlimited leisure activities or calendar of events here.
Further details about the resort of Zauchensee can also be found under "Jagdhaus" in Zauchensee or visit the Zauchesee website here.
Do you still have any queries about your holiday in the twin holiday paradis?
Then send us your enquiry or request here now

We will respond as soon as possible.