Eating & Drinking in the Markterwirt. Culinary delights in Altenmarkt - in the middle of Salzburg.
Experience a culinary tour starting in our cellar restaurant Gwölbl through the "old kitchen", up to the café restaurant - enjoy a drink in the elegant dining room or on our generous terrace. Our 6 different localities invite you to stay and enjoy in every season.
Culinary delights may vary from plain fare over regional specialties up to international dishes and vegetarian cuisine. The alternate seasons offer diverse delights of asparagus, mushrooms, berries or fish from our own lake "Zauchensee". The venison and fish weeks in autumn have been part of our tradition for many years and are .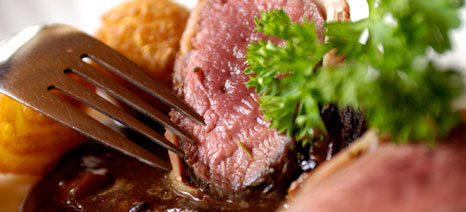 Our kitchen team surprises our guests all year long with deliciously diverse gastronomic pleasures. Cooked is mainly with goods of local farmers. We furthermore place a high value on food from the gourmet region Austria.
The hosts Franz and Franz jun. Schneider are passionated fisherman and hunter.
Therefore most of our venison from the Salzburg-Lungau region and the trout and char "freshly caught" from our own private lake "Zauchensee" is caught and hunted by the Schneiders themselves.
The Markterwirt half board
Good morning: Enjoy a rich breakfast buffet style with all kinds of delicacies
Good evening: Choose from and enjoy our assorted 4-course dinner - every meal is a culinary experience! We also serve healthy, low-calorie dishes and a daily wide selection of fresh salads